There's no doubt that one of the more difficult aspects of being an online columnist and journalist these days is the large amount of email pitches you get. I receive several dozen a day and, especially during the morning and early afternoon hours, they come in in fast and furious. As someone who likes to keep my inbox as clutter-free as possible, I tend look through almost every one of them, and end up deleting quite a few.
I've talked to different audiences over the years about what separates the good press releases from the bad ones. Different journalists have different opinions but there are clearly some basic best practices that many of our public relations (PR) friends would do well to remember and utilize.
Pitching PR: What Works and What Doesn't
Not a day goes by that I see a press release intended for someone who covers a beat different than mine. Also, I would say about a third of the people who reach out to me think that I'm based in New York for some reason (I live in San Francisco). Don't get me wrong, I'd love to spend more time in the Big Apple, but I'm not there, and how some of these PR people got the idea that I'm based in New York City I'll never know. Regardless, it kind of pains me because some of those New York PR pitches look interesting. In those cases, I may reach out to check if the CEO who is available to talk to the press will be coming to San Francisco anytime soon, or is available for a phone call.
These are of course just a few of the snafus that cause me to send PR emails into my inbox trash. It's been a pet subject of mine and one that I am an expert on because I continue to experience the "pitch deluge" more and more every week.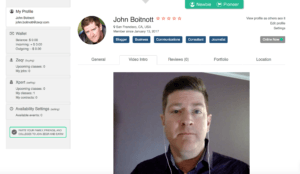 Becoming a 'Zeqr Xpert'
Recently a budding startup called Zeqr (rhymes with "seeker") reached out to me to ask if I wanted to teach people how to pitch journalists better. I jumped at the chance. Their platform lets people have one-on-one sessions with "Xperts" about all sorts of different things, from "turning a blog into a business" to "writing a press release." I'll be doing my sessions on "How to generate press for your company." I'll be giving advice on what to avoid saying to journalists like me, as well as how to get to know us over time and even establish relationships with us.
To have a chance of accessing an exclusive, one-on-one Zeqr session with me, head to the Zeqr home page. Then register for a Zeqr account and find me under search class. Hit 'Contact Xpert' and submit a short explanation of why you would most benefit from a session with me. Four people will then be selected and will be contacted directly to arrange their individual session.